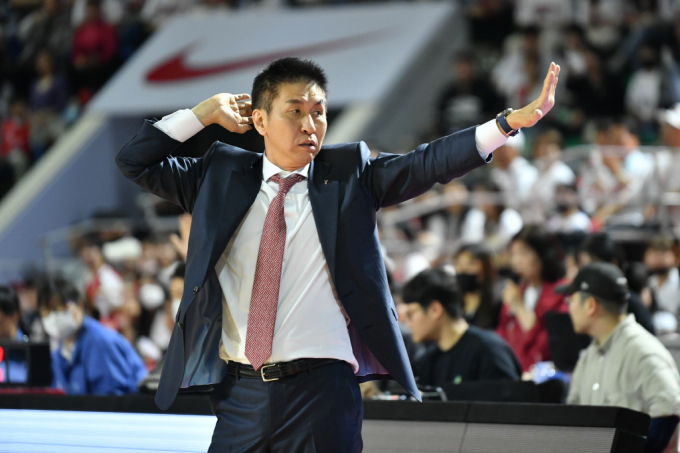 Head coach Kim Sang-sik expressed his satisfaction after the Jones Cup.

Anyang KGC lost 64-92 against Chinese Taipei A in the final game of the 42nd William Jones Cup on Tuesday at Heping Gymnasium in Taipei, Taiwan. Ko Chan-hyuk (14 points, 2 three-pointers, 2 rebounds) was the lone bright spot in the loss, but the team's tight schedule revealed physical problems.
After the game, KGC head coach Kim Sang-sik said, "We've participated in the Jones Cup a lot, and it's always a tight schedule. We checked the players' condition in the morning before the final game, but they were not in good shape due to the hard work, so we had no choice but to play the starters in the first half and then rotate them evenly in the second half. The players were really tired, but they did their best."
KGC was without Duvon Maxwell, who played well throughout the tournament, due to a sore knee. Another foreign player, Brian Griffin, played just three and a half minutes. Their absence was all the more disappointing as the team struggled to control Taiwanese naturalized player William Artino (30 points, 12 rebounds).
"I'm sure the players were disappointed and I'm disappointed. But they weren't feeling well either, so we can't do anything about it. We'll have to work on the things that didn't go well today when we get back to Korea. We will play better basketball through this tournament." Coach Kim Sang-sik said.
With a record of 6-2, KGC finished the tournament in third 토토사이트 place behind the USA's UC Irvine (8-0) and Chinese Taipei A (7-1). Despite the difficulties, the team was able to see the potential of young players such as Ko Chan-hyuk and Kim Kyung-won.
"We were able to identify the strengths and weaknesses of the players who didn't play much last season, and it was also a chance for them to work with the existing starters. I think it was a good opportunity for them and a good learning experience for all of us," said coach Kim Sang-sik. As I said before, we'll do our best to improve on the things we learned from this tournament and do even better in the new season."